– at our Reading PA Bed and Breakfast –
Our Reading PA Bed and Breakfast serves a full, fresh breakfast each morning. We happily accommodate vegans and gluten-free guests. We also deliver fresh coffee on a tray outside your door each morning. After you've relaxed with a cup of coffee, make your way down to breakfast. There you'll meet Kedri making final touches to breakfast. Sit down to juice, fruit, and sweet rolls followed by an entree such as frittata or french toast. During breakfast we're happy to point you in the right direction for a fun day of activities, great spots for dinner, as well as quiet relaxation around the inn. In addition to relaxation, there's always loads of laughter to have here too! Don't you just want to join the fun? Check availability and Book Today!
Breakfast Photo Gallery: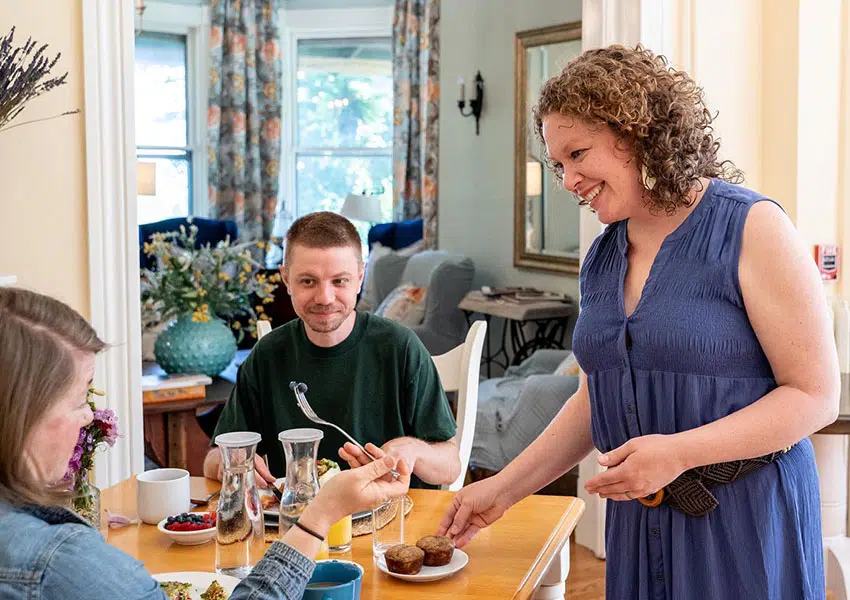 Guest Review:
We had such a wonderful relaxing stay at South Mountain Inn! We have been to several bed and breakfasts over the years and this one was by far the most beautiful, cleanest and had the most delicious breakfasts you could ask for! The room was luxurious and the special little details just showed the time and care taken for guests at South Mountain Inn. Matt and Kedri are wonderful hosts! They go out of their way to make sure you have what you need and truly have hearts of gold! We were blessed to have found this beautiful retreat only an hour from where we live, to celebrate our anniversary!