– Looking for the Best PA Bed and Breakfast? –
If you're looking for the best PA bed and breakfast, look no further than The South Mountain Inn outside of Reading, PA. The South Mountain Inn offers a quiet setting on 7 acres. Use the quiet slower pace to connect with nature, yourself, or your someone special. Inn amenities include: complimentary WiFi, free on-site parking, concierge services, breakfast each morning, cookies in your room upon arrival, fresh coffee delivered to your room each morning, smores fixings in the evening, fire-pit, onsite massage services, all in a family friendly atmosphere.
Indoor Spaces
Beyond your guest room, we welcome you to make yourself at home in the inn's common areas. The bright cheery colors, fabulous nature light, and comfortable decor, welcome reading, visiting, and playing games.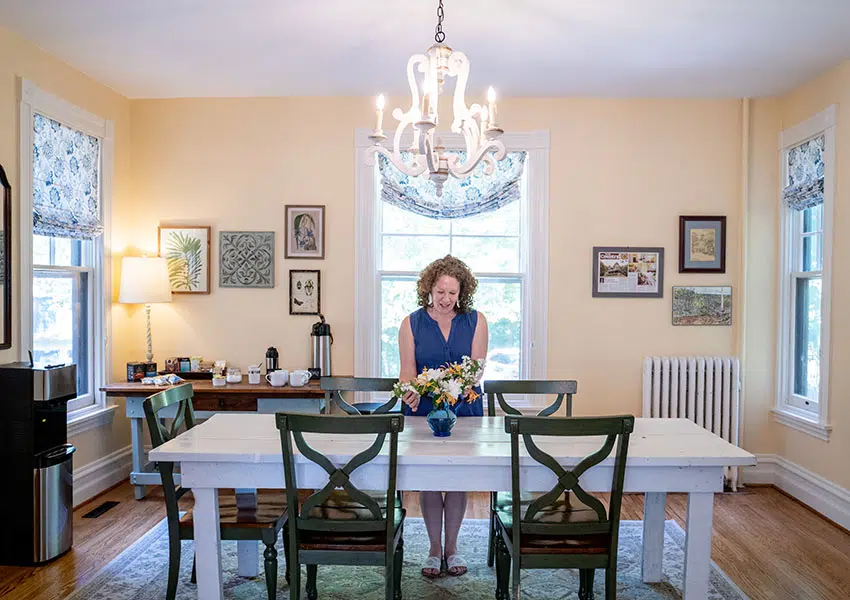 Outside at The South Mountain Inn
A recent guest writes: "The view from the very sweet front porch is incomparable and provides a much needed pause to exhale." We couldn't agree more. Our primary mission is to create a peaceful environment for our guests. Here guests are offered a true break from the craziness of life. Slow down and sit awhile on the old-fashioned porch. Pick a handful of wild berries on your way to the hammock. Cozy up around the fire-pit for smores. The possibilities to relax and reconnect are endless. We've made many recent upgrades to the yard (shown in the photos below. Improvements include new stone steps, large patio with fire table, and updated landscaping. We've also recently welcomed a new baby donkey to the family. Come away and enjoy some time here on The South Mountain.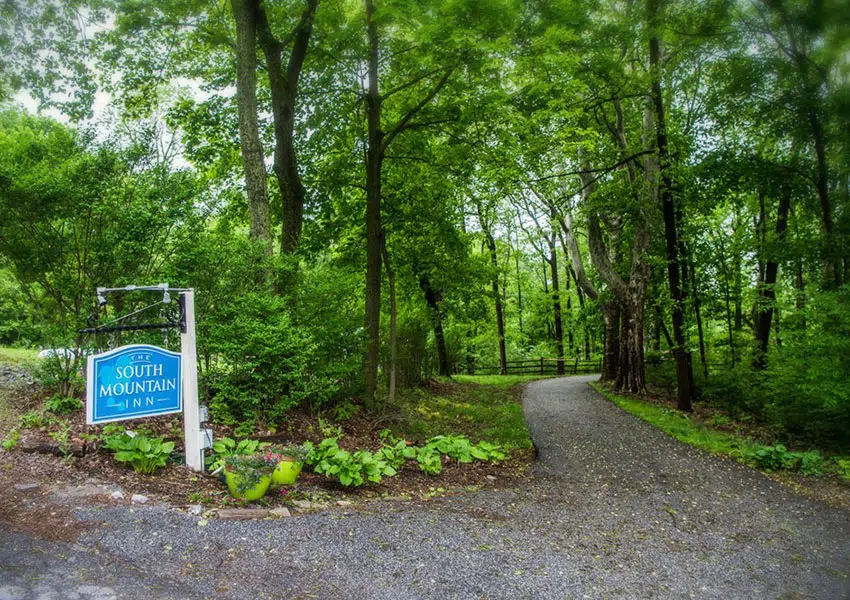 Guest Review:
Absolutely Charming Get-AwayMy boyfriend and I couldn't have been happier with our stay. We were greeted cheerfully by one of the innkeepers after arriving… The inn was beautiful and had a cozy, rustic feel, including a kitchen, reading room, and dining room on the bottom floor, with the bedrooms on the upper floors. We had only a short drive to our dinner spot that evening, which we chose from the local information that was left for us in our room. That night, we built a fire in the fire pit with the wood that was neatly stacked on the front porch and made s'mores with the basket of goodies that had been left for us on the kitchen table by the innkeepers. We had a lovely evening, full of fireflies and starry skies.
Our room was clean and comfortable, with plenty of natural sunlight in the morning. We enjoyed an amazing breakfast that was provided to us the next morning on the wrap-around porch, with too many delicious things for our stomachs to hold (the innkeepers had previously asked if we had any dietary restrictions/preferences). We found that there were nearby raspberries on the perimeter of the lawn, which one of the innkeepers told us we could pick and take with us, providing us with a ziplock bag. I would highly recommend this location to anyone who is looking for a peaceful, charming get-away. You'll find great hospitality and thoughtful touches in every corner of the inn. Abby