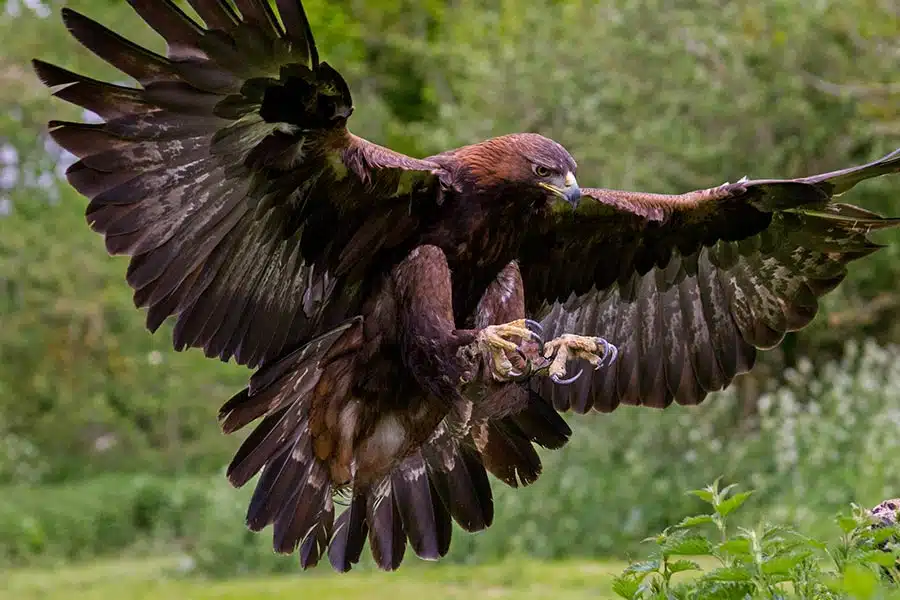 Hawk Mountain Sanctuary is not just one of the most popular raptor-watching sites in the country, it's also the world's oldest and very first refuge for birds of prey. Birders and other nature lovers will be pleased to learn that this hiking, sight-seeing, and premier bird-watching destination is less than an hour's drive from The South Mountain Inn.
Hawk Mountain Sanctuary is a 2,600-acre natural area in southeastern Pennsylvania, first set aside as a raptor sanctuary in 1934. The refuge is located along the Appalachian flyway and sees an average of 20,000 migrating raptors in late summer and fall.
Staff and volunteers at the sanctuary compile annual, migrating bird counts that add to the longest continual record of raptor populations kept in the world. A record that continues to provide priceless information to conservationists. In fact, Rachel Carson used Hawk Mountain records as part of the evidence to support the premise of her famous book "Silent Spring."
Raptors are not the only birds you'll find at Hawk Mountain, however. In fact, 235 different species of birds have been sighted at or near this fantastic birders paradise. Hawk Mountain is also known for its hiking trails, spectacular scenic overlooks, and free, live bird programs.
Things To Do at Hawk Mountain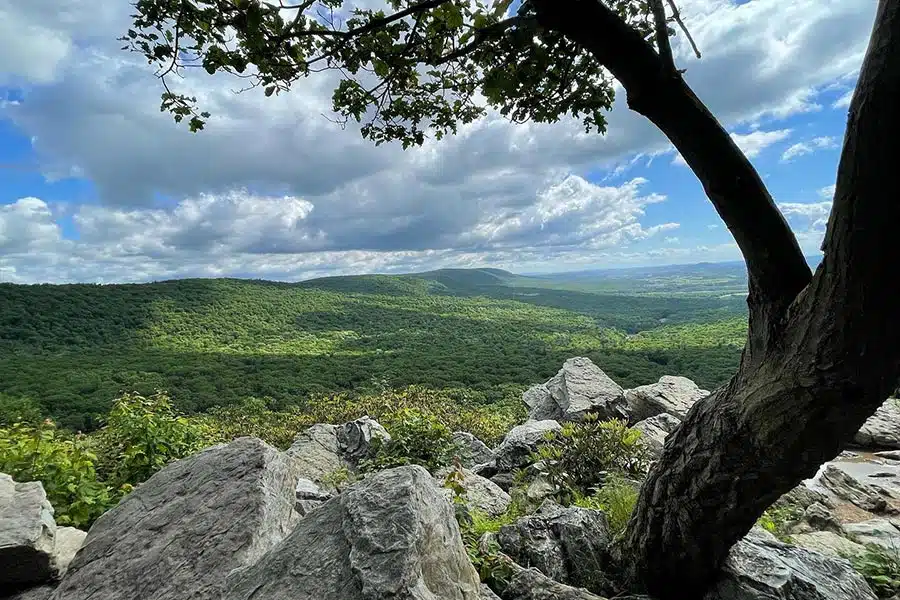 Hawk Mountain is a popular, year-round destination for hikers, bird-watchers, photographers, and nature enthusiasts of all stripes. Facilities include a visitor center with book store and gift shop, an amphitheater, education building, training facility, and plenty of parking.
First time guests will want to check out the visitor center to learn about the sanctuary, see trail maps, and learn about any on-site events, programs, or workshops. After that, we suggest getting out onto a trail.
Hawk Mountain offers a good variety of hiking trails, most of which lead to amazing views, and a few even connecting with the Appalachian Trail. Some are much more strenuous than others, however.
Lookout Trail is a great place to start. This popular and easy one-mile track takes you from the Visitors Center to some of the sanctuary's most stunning and expansive views. Awe-inspiring, eye-popping vistas stretching 70 miles or more on a clear day and also a great place to spot raptors. It's even wheelchair accessible. Wow!
While there is no bad time to visit, there are definitely some better ones, with autumn being the peak.
As I mention above, the annual raptor migration sees tens of thousands of birds passing through the area. Almost as many spectators come to watch. The migration usually kicks off by mid-August, beginning with bald eagles, followed by osprey and American kestrels. Broad-winged hawks follow in mid September. By October, one can see as many as 16 raptor species in the area.
Best of all, sanctuary staff and volunteers are available throughout the migration season to answer questions and point out birds. Birds aren't the only reason to visit in autumn, either. Just wait 'til you see those expansive views decked out in all that fantastic fall foliage!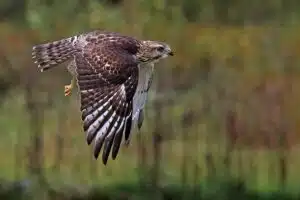 Visiting Hawk Mountain Sanctuary
Hawk Mountain Sanctuary is located at 1700 Hawk Mountain Road in Kempton, PA.
Hawk Mountain Visitor Center and trails are open daily, 9am to 5pm. Hikers are encouraged to wear sensible, closed shoes with a good tread. You should also carry a daypack with water, snacks, and other necessary outdoor and hiking gear.
Non-members visiting the Sanctuary need to buy an online ticket or pay a trail fee at the Visitor Center. Online tickets need to be printed out and presented at the trailhead gate or Visitor Center to enter.
Visit www.hawkmountain.org for more information. You can also find the sanctuary on Facebook.
Hawk Mountain is less than an hour's drive from our Reading PA area bed and breakfast, The South Mountain Inn. It would be very easy to make a day trip out of your visit to the area. If this sounds like something you'd enjoy doing, let us know. We'd be more than happy to help you plan your itinerary.